Where we are
I bring the Caletta
You can find us in the Tourist Port of La Caletta di Siniscola, in the Pier in front of the Coast Guard building.
La Caletta is a fraction of the Municipality of Siniscola, it is located along the Eastern Sardinian Coast, in an optimal position to be reached both from the centers of the North-East and the North-West, and from the most central areas of Sardinia.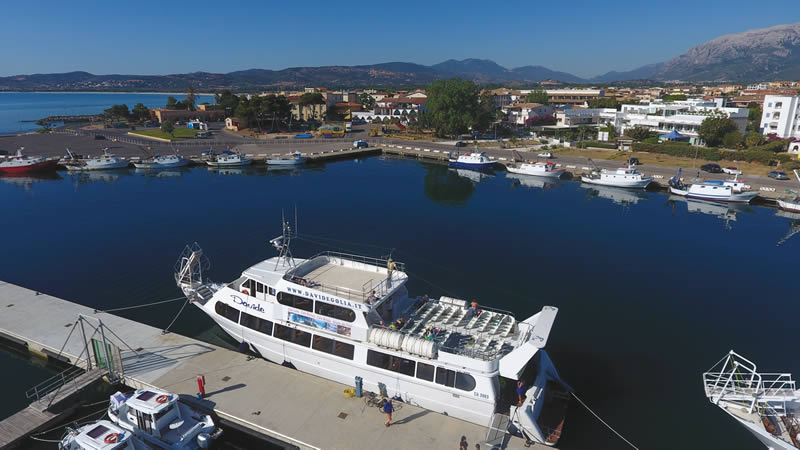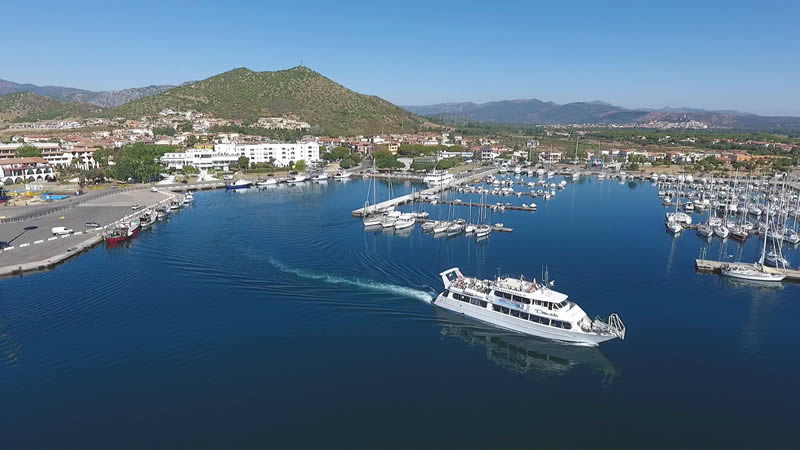 How to reach us
The town is easily reached from Olbia, southwards, along the SS 131 DCN (Olbia-Nuoro highway) (about 35 minutes) and exit at the second exit of Posada (indicated as Posada-Torpé), at the intersection you turn on the left until you reach the first stop. From here you go straight towards the Caletta. After about 3 km turn left for La Caletta - Tourist Port.   Coming instead from Orosei (about 20 km to the south), follow the SS 125 up to the junction for La Caletta in "Sa Pretta Ruja".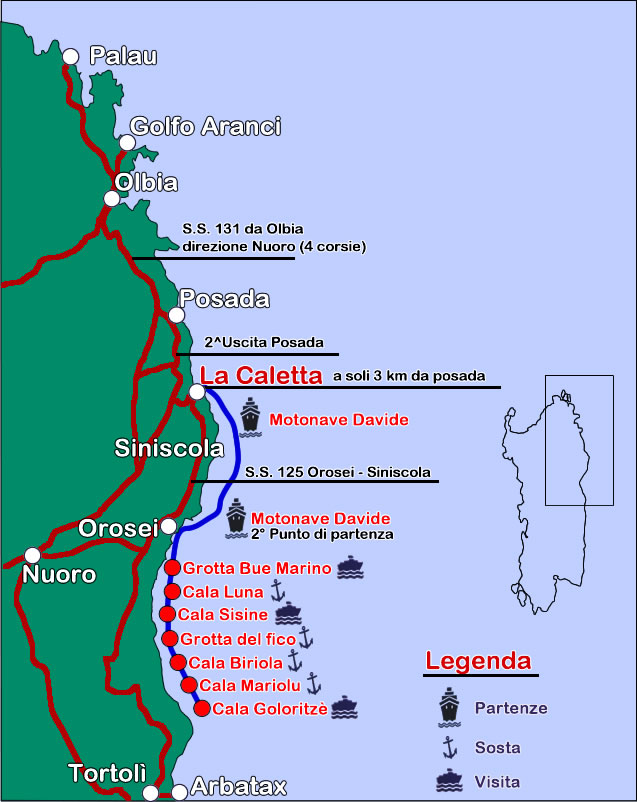 The Davide ticket offices & Goliath
LA CALETTA: Piazza del Porto near the Rotonda;
Here you can receive more detailed information and you can book and buy the ticket.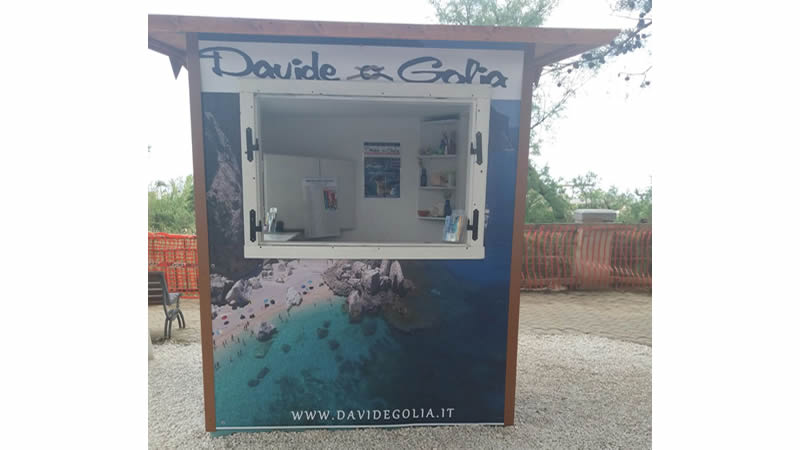 Marina di Orosei
You can also find us in Orosei where we have another embarkation point in the Marina di Orosei, the main beach of the homonymous town.
             The beach of Marina di Orosei is located two kilometers from the town to reach both by car along the SS 129 and by bicycle along the path that runs along the road.
Boarding point
The boarding of passengers on the Davide motorboat will take place directly from the beach of the Marina di Orosei left side where the paid parking lots are located and where you will also find our Davide ticket kiosk & Goliath . In front of the ticket office you enter the "Sa Marina di Orosei" beach where you will find the docking corridor a few tens of meters on the left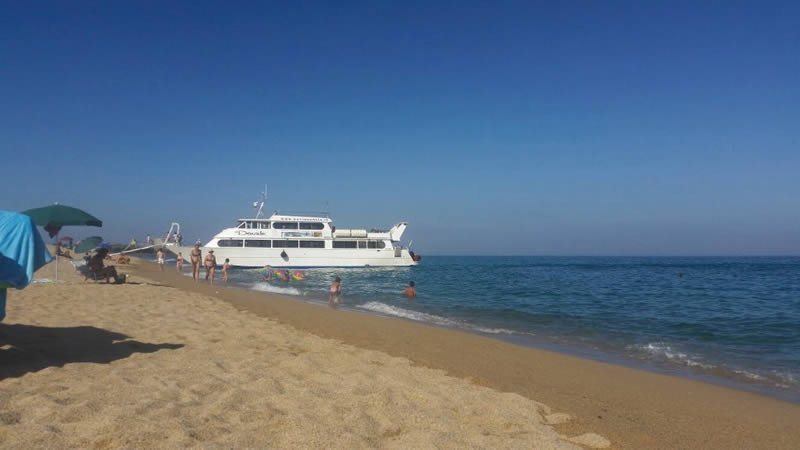 How to reach us
Coming from Central and Western Sardinia, the town of Orosei can be reached from the DCN 131. After the city of Nuoro, take the exit for Siniscola-Orosei and follow the signs for Strada Statale 125 towards Orosei. Once in the village, take the Via del Mare (SS 129) to the end of the road. The embarkation point is on the beach, on the left side towards the mouth of the river. Here you will find a corridor marked by buoys on the sea side. This is the docking corridor from where the Davide motorboat will enter for passengers to board.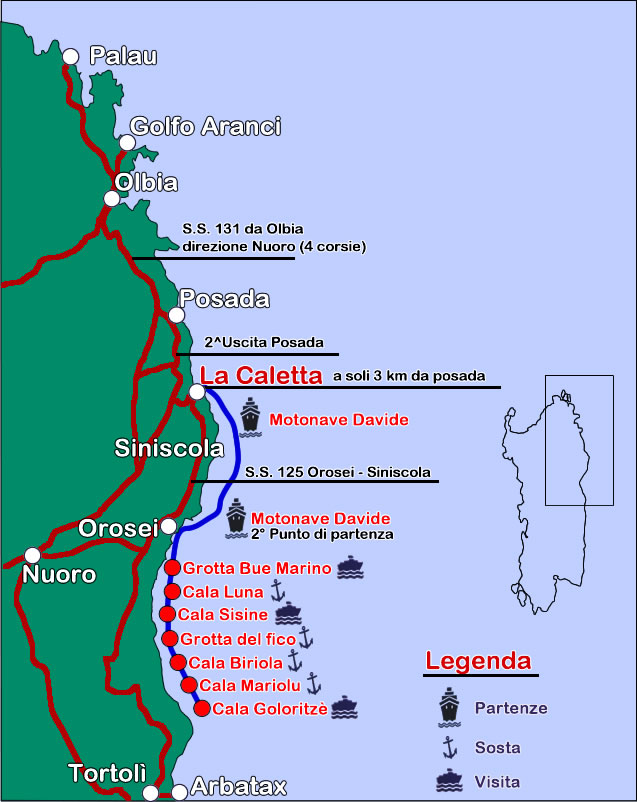 The Davide ticket offices & Goliath
A SOS ALINOS : Piazzale del Parcheggio in front of the Market Sisa - located on the left along the SS 125 towards Orosei before the intersection for Sos Alinos - Cala Liberotto.
Here you can receive more detailed information, book and buy the ticket.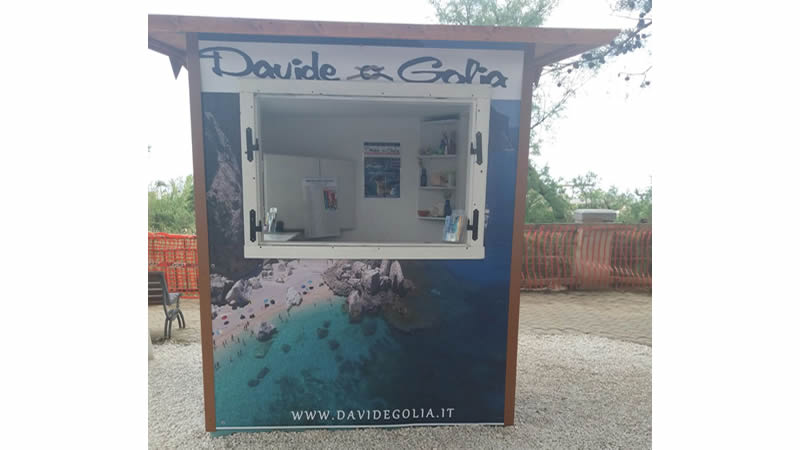 TO MARINA DI OROSEI:Lleft of the beach in front of the parking area.
ere you can receive more detailed information, book and buy the ticket.